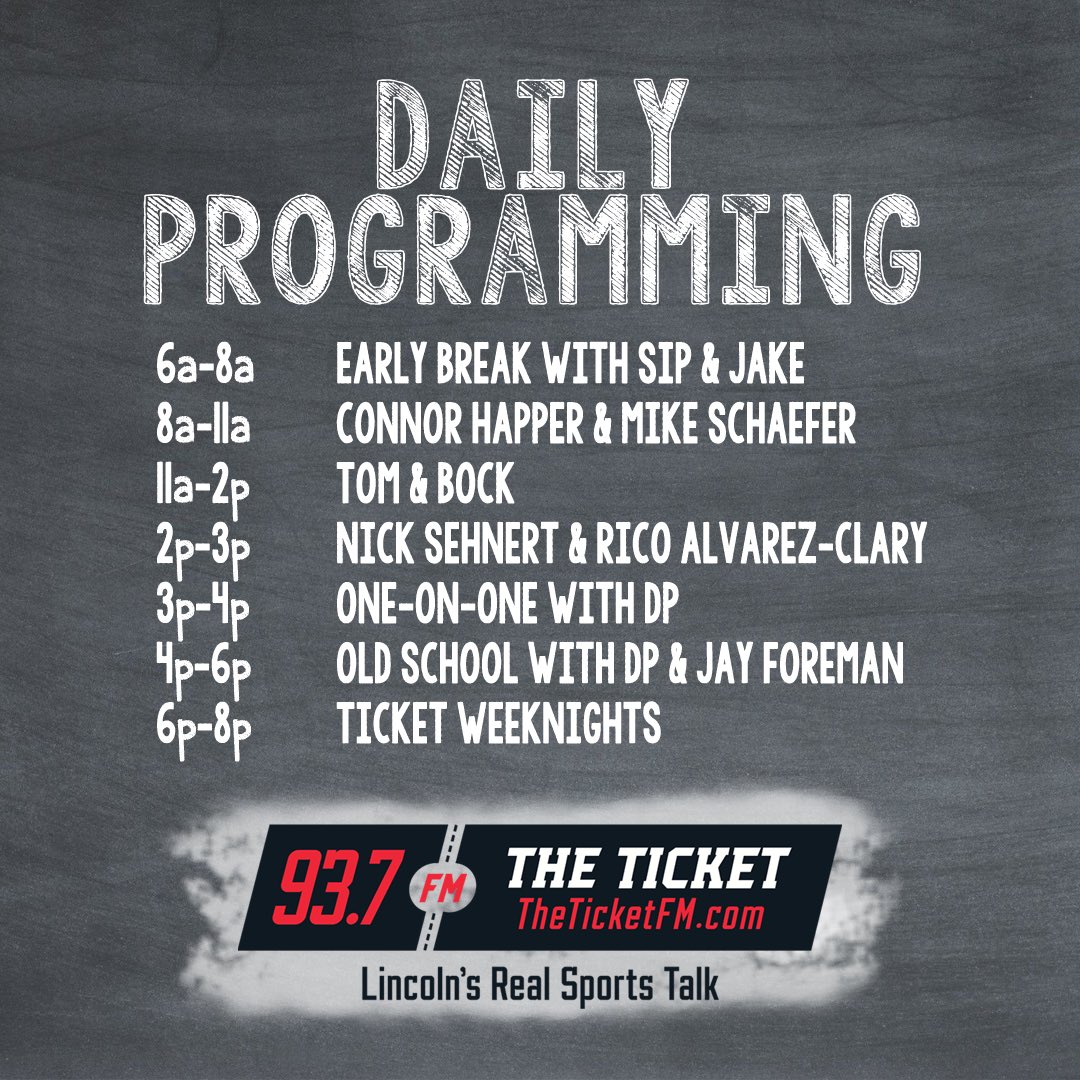 93.7 The Ticket is proud to announce a new look lineup coming to your airwaves! Beginning August 16th, sports fans in Lincoln can enjoy at least 14 hours of live, local content every weekday.
The day begins the same way it has for the last five years, with "Early Break with Sip and Jake" from 6:00 – 8:00 a.m.. Jake Sorensen and Steve Sipple get you caught up on the sports world's happenings from the night before while mixing in your favorite segments like Shut Up Sipple, Song of the Day and Aging Gracefully.
At 8:00 a.m., a familiar pairing gets a new stage when "The Happer and Schaefer Show" makes its debut. Connor Happer and Mike Schaefer expand their partnership to three hours to bring you the freshest news from the Husker beat and across the national scene. They're bringing along the best parts from The Recruiting Hour and creating an exciting new product in the morning radio scene.
From 11:00 a.m. – 2:00 p.m., it's the return of Jake Bockoven to the Lincoln airwaves! Bock pairs up with Tom Stephens, who has anchored the mid-day show since day one at The Ticket. These two Husker diehards and radio veterans team up for something all-new, "Tom & Bock."
At 2:00 p.m., we all start thinking about the end of the workday, so here on The Ticket we bring you "Happy Hour" with Nick Sehnert and Rico Alvarez-Clary. Listeners can expect a high energy show with our resident young guns.
Derrick Pearson takes over at 3:00 p.m. for an hour of interviews we're calling "1-on-1 with DP." In-depth conversations with the coaches and players who are in the heat of the action. DP continues on from 4:00 p.m. – 6:00 p.m. with former Husker and NFL veteran Jay Foreman for "Old School with DP and Jay." Get a breakdown of the game the way only a Nebraska Football Hall of Famer can deliver.
No need to stop at 6:00! We're extending the fun into the evenings with a new block of programming from 6:00 p.m. – 8:00 p.m. Former Husker athletes, current Husker coaches and new on-air talent to round out your day. Plus, more coverage of high school sports both inside and outside the city limits.
Tune in all day long on your radio, online or on our mobile apps, or watch the new Sartor Hamann Video Stream on Facebook, YouTube or Twitch.